Look for the Youth Gallery between the Lakewood Box Office and Re-Runs!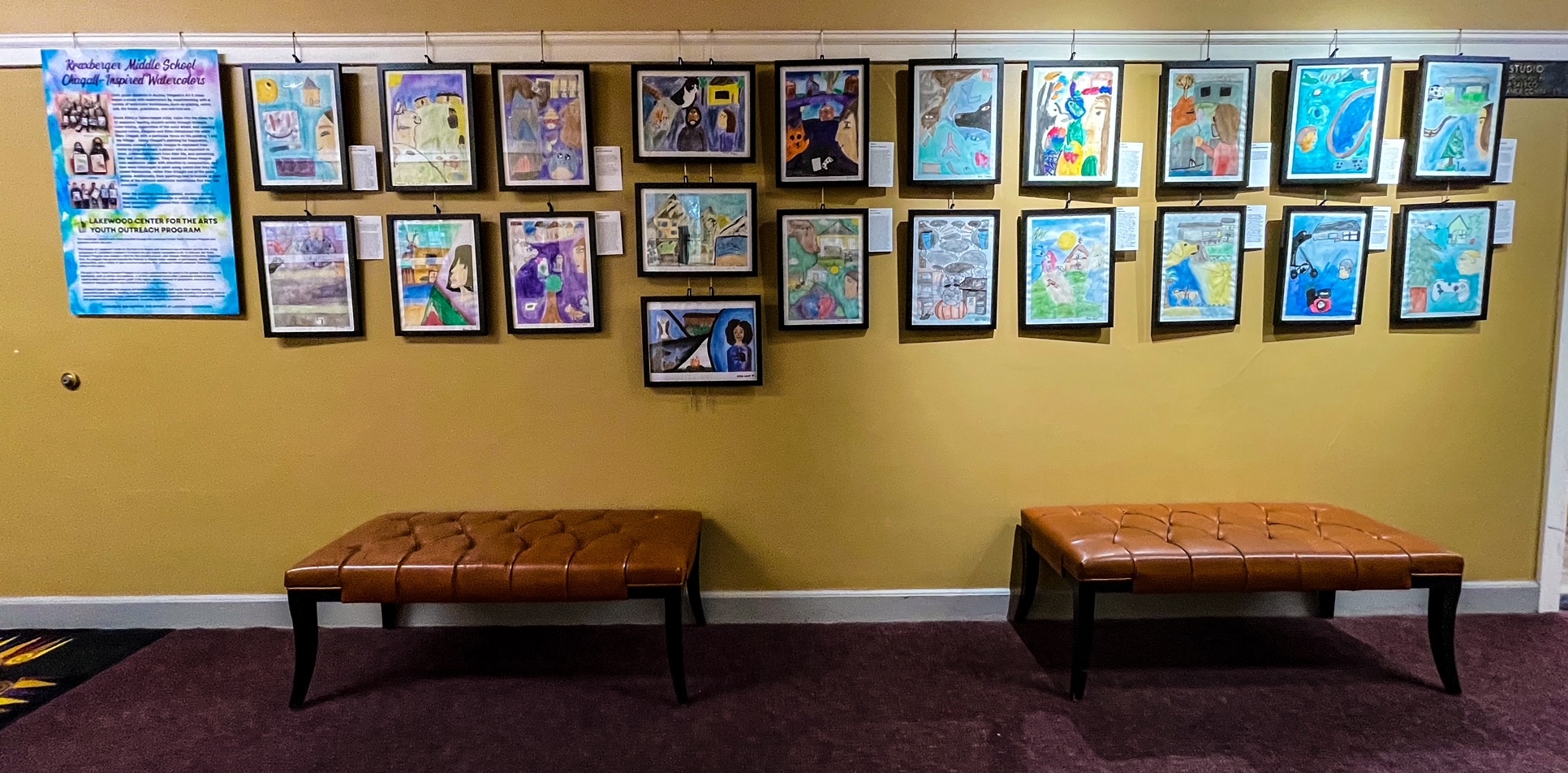 KRAXBERGER WATERCOLOR WORKSHOP
On view January-February 2023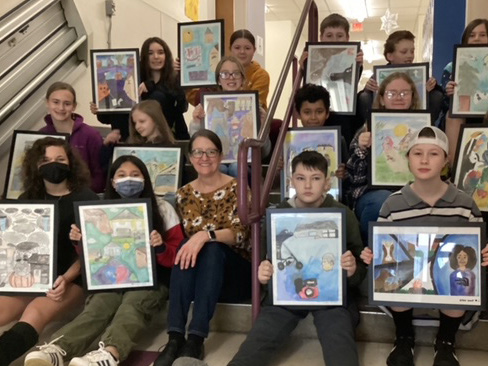 Sixth grade students in Audrey Delgado's Art 6 class began a study with watercolors by experimenting with a variety of watercolor techniques, such as glazing, resist, salt, dry brush, gradations, and wet-into-wet. 
Sonia Allen, a Salem-based artist, came into the class for 12 sessions, leading student artists through in-depth color mixing, exploration of the color wheel, and creating neutral colors. Delgado and Allen introduced the artist Marc Chagall, with a particular focus on his painting 'I and the Village'. Students created symbolic images to represent their home or neighborhood, a person who is important to them, a memorable event from their life, and something they feel strongly about. They sketched images onto watercolor paper with attention to composition, and then were challenged to paint using colors that they had mixed themselves, rather than straight out of the paint palette. Additionally, their paintings had to include at least three of the different watercolor techniques that they had practiced. 
After the paintings were completed, students wrote a detailed, thoughtful reflection in which they described their process and explained their chosen symbols and their meanings.
The mission of Lakewood Center for the Arts is to inspire and nurture a love of theatre and the arts. A big component of Lakewood's mission is to ensure the arts remain accessible to all. To that end, the Youth Outreach Program was created in 2018 for the Center's annual Lake Oswego Festival of the Arts. Since that time, the program has grown beyond the Festival to include a larger number of participants, different communities, and a variety of year-round art programs that Lakewood Center/ Lakewood Theatre Company offers to the region.
The goal of the Youth Outreach Program is to create opportunities for youth in the greater Portland area to participate, both as artists and audience, in all that Lakewood has to offer. Lakewood strives to bring opportunities to the under-served youth in the region, whom, because of geographic, socio-economic, cultural or language barriers have limited access to arts education.
Lakewood Center hopes the program will facilitate conversations with youth, their families, and thier supporting organizations, resulting in open collaborations and a better understanding of how to continue to create meaningful experiences. Lakewood Center recognizes the importance of creating an inviting, diverse and inclusive environment for participants as artists, students, and audience.