Drink and Draw with Allen Schmertzler's Classy Caricature Drawing "Let's Face It!"
June 23 @ 3:00 pm

-

5:00 pm

$25.00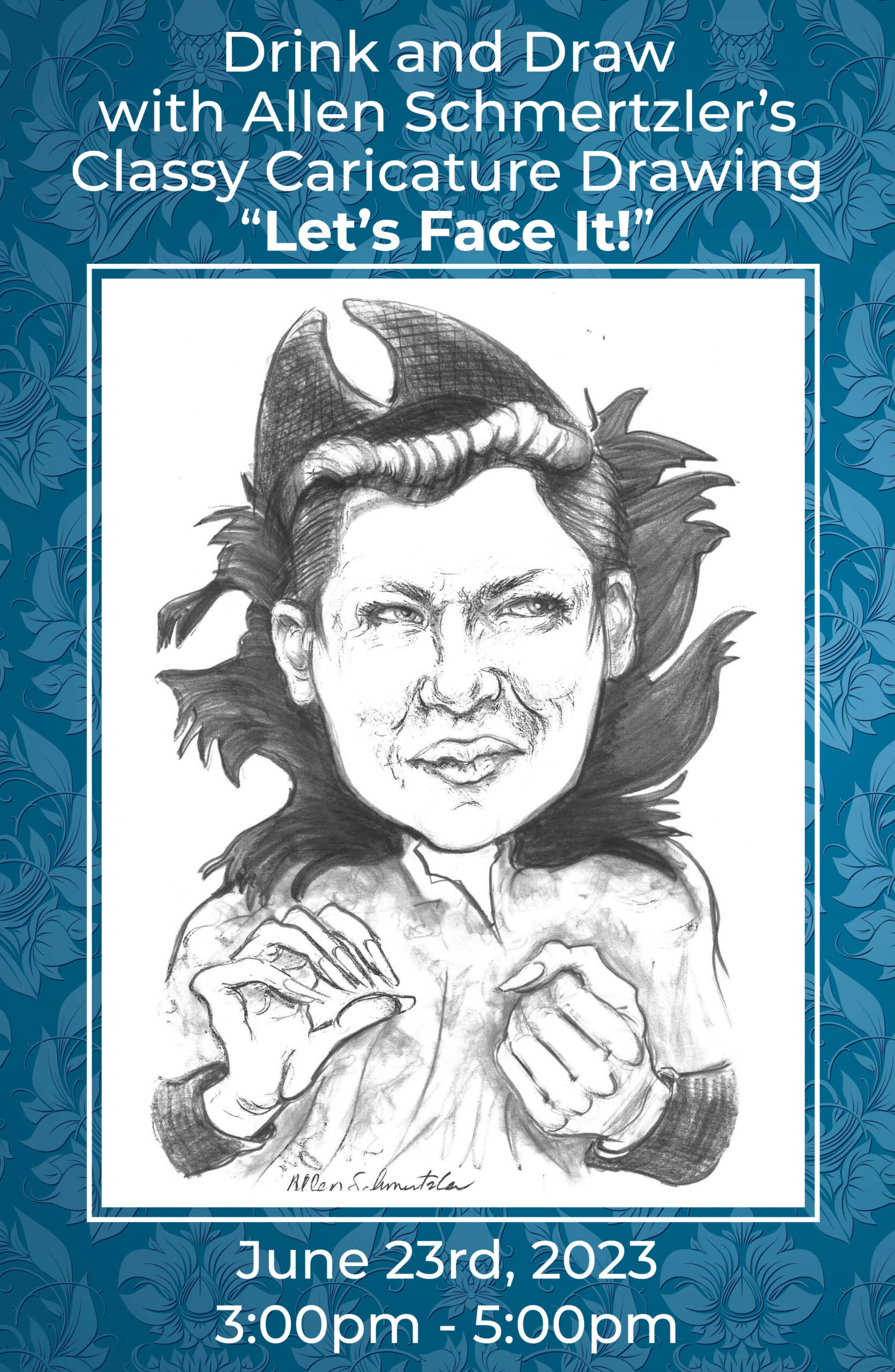 Join Allen Schmertzler, a retired educator with 40+ years of experience, as well, an award winning artist, who writes, publishes-(including a 5 year gig on the HuffingtonPost), exhibits, and also ventures out of his studio as the entertainment at events for corporate clients with his live caricaturing. 
Time and Date: Friday, June 23 from 3:00-5:00pm
Location: In the Lakewood Café, Lakewood Center, downstairs. There will be food and wine available for purchase.
Limited to 25 people.
Charge to attend: $25

What to bring:
Attendees need to bring a drawing pencil of comfort, and a pad of paper sized around 11"X14" with 10-20 sheets. Erasers not welcome.



Drink and Draw with Allen Schmertzler's Classy Caricature Drawing "Let's Face It!"
Back for the second year! This special Festival workshop is about reinforcing or discovering your own drawing voice-mark making, the essential ingredient to art, laying down confident line and shading that dances with thin-to-thick volumetric intensity that goes POP! 

Secondly, it unfolds with drinking wine as a social lubricant- a perfect match for this highly refined and oldest form of live interactive social drawing, which relies on quick observation of essential facial landmarks. On every face, there exists, the skin drapery of folds and wrinkles stretched around bone and muscle, etched on one's facial real estate, influenced by one's emotional history and repetitive use of specific muscles. In this way, the caricature drawing has the capability to spirit a person's face. Each caricaturist gets to edit and gerrymander facial features of subjects you draw. Caricaturing is short hand for portraiture. A caricature is a portrait on steroids with the heat turned up.  

Allen will walk you thru a quick analysis of what the caricaturist sees with at least one celebrity face, then, demo a large caricature drawing of this face. Finally, Allen will demonstrate a quick how-to-do live 6 minute caricatures, and then attendees will join in and draw each other under Allen's seriously playful direction. Attendees need just a drawing pencil of comfort, a hard surface such as a drawing board or pad of paper sized around 11"X14" with 10-20 sheets. Erasers not welcome.

The pursuit of drawing caricatures can be an artistic meditation on a fascination with the extraordinary but lead back the the rediscovery of the ordinary.
*lastly, free yourself for insane bravery and experience the results!"